TECO OTDRs: TE800 can work for both SM & MM on one unit with VFL; TE300 SM OTDR small size with factory price,OEM service provided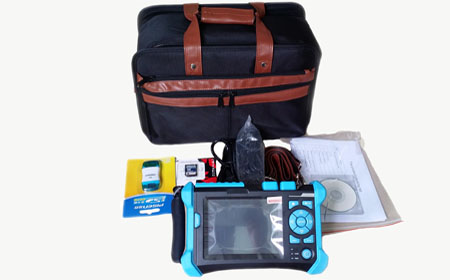 TE800 OTDR for both SM & MM, Single-mode OTDR & Multi-mode OTDR, high quality, equal to EXFO OTDR
Features
Applicable fiber: Single mode & Multimode (MV10A)
Built-in Visible Fault Locator (VFL)
<2m extra-short event dead zon
Wavelength: 850/1300nm, 1310/1490/1550/1625nm±20nm
Up to 38/36dB High Dynamic Range
Distance Range: 4,8,16,32,64,128,256km
Pulse with: 10,30,80,160,320,640,1280,5120,1024ns
640×480, 6.5 inch TFT-LCD (touch screen)
USB interfaces, supporting USB stick and printer and direct cable download to PC via ActiveSync
Memory capacity >800 traces
Built-in lithium battery with high capacity for over 8 hours of operating life
Display: Color LCD
One year Warranty
Description:
With a short <2m dead zone the TE800 is designed for FTTx application. It can test the length, fiber loss connector loss and
other physical characteristics of fiber. it can locate events on fiber cables precisely. It is really the tool of choice for
FTTx application installation and maintenance as well as for fiber R&D and producing testing. TE800 rugged design, lightweight
and easy operation, as well as the low-reflection LCD and more than 10 hours battery life make it be perfect in filed testing.
Meanwhile, Its two USB & SD interfaces help to store and transfer traces easily and conveniently.
Order Information:
1. MV10A MM OTDR 850/1300nm 23/21dB
2. SV20A SM OTDR 1310/150nm, 32/30dB
3. SV30A OTDR 1310/1490/1550nm 32/30/28dB
4. SV20C SM OTDR 1310/150nm, 38/36dB
5. SS24AF PON:1310/1550/1625nm,32/30/28dB
6. SS24CF PON:1310/1550/1625nm,38/36/34dB
Standard Package:
• TE800 OTDR
• Testing Report
• AC/DC adapter
• Quality certification
• Trace analyzing software(CD)
• Internal Battery
• User Manual
• Carrying Case
Related products you may need