Our fusion splicer systems inc.fusion splicer, fiber optic cleaver, electrode & cleaver blade. Also we are the agent of Fujikura, Sumitomo, EXFO products, and we have our own factory producing fiber testers.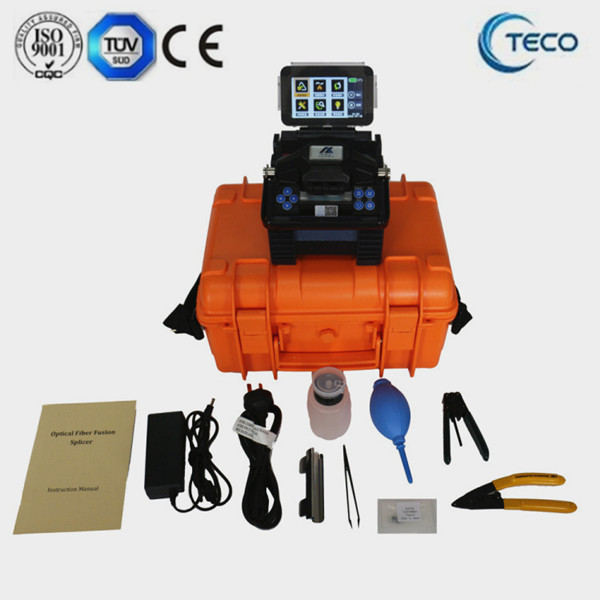 TE580 Optical Fiber Fusion Splicer
Introduction
TE580 optical fiber fusion splicer is a mini fiber splicing equipment which is compactly designed, easy to carry and operation.
7 seconds fast splicing, 17 seconds arc heating, Low Loss 0.02dB(SM), 200 to 260 times splicing and heating,
1.89KG Small in size, PAS fiber core alignment technology, CMOS image sensor imaging technology.
Features
Based on the principle of PAS (Lateral Projection System), adopt advanced image detection algorithm;
Double core align structure, higher success rate of fusion and lower loss;
Adopt 4.3 inches 16:9 TFT colorized LCD screen;
Splicing Time: 7s (fast model) /9s (typical model)
Heating Time: 17s ( set by yourself)
Reliability design, strengthen shockproof, dustproof and other functions;
Low power consumption design makes it possible to work long time
Multi-functional, small-sized, portable, can greatly improve working efficiency;
Can detect air pressure, temperature & humidity environmental factors, automatically calibrate arc.
Specification
Applicable Fiber Type

SM(Single mode), MM(Multi-mode), DS(Dispersion shift)

NZDS(Non zero dispersion shift)

Applicable Fiber Count

Single

Fiber Diameter

Cladding diameter: 80-150μm, Coating diameter: 100~1000μm

Splice Mode

Stored 40 groups, User-defined 80 groups

Average Splice Loss

0.01dB(SM), 0.005dB(MM), 0.04dB(DS), 0.04dB(NZDS)

Return loss

More than 60dB

Connecting Time

9sec( Typical time)/ 7sec (Fast type)

Splice Evaluation

Have

Tension Test

2N

Screen

4.3 inch Color LCD, support Chinese, English, Russian, Portuguese,

French, Spanish display

Optical Magnification

X/Y:115 times, X or Y: 230 times

Power Supply

11.1V Lithium battery, 13.5V/5A power adapter, 12V vehicle power supply

Battery

Typically Operating 220 times( Splicing / Heating), Single battery charge 3 Hours,

can be recycled 500 times

Splice Results Storage

5000 groups of the latest records

Data Interface

USB2.0

Operating Environment

Altitude: 0~5000m, Relative humidity:0~95%,Temperature:-20°C~55°C,

Maximum wind speed: 15m/s

Storage Environment

Relative humidity:0~95%, Temperature:-40°C~80°C (Except Battery),

Temperature:-10°C~ 40°C (Battery)

Weight

1.89kg(Include battery)

Size

166D×140W×130H(mm)
Related products you may need