Optical Fiber Tester including optical power meter, optical light source, VFL, optical multimeter, optical variable attenuator,optical cable identifier, optical fiber ranger.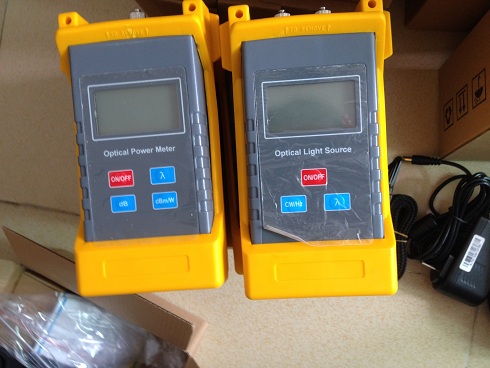 Description:
The TE202 series Laser Source offer excellent stability and portability for fiber optic testing. It can provide 1 to 4 wavelength export according to the specific requirements including the 650nm、850nm、1300nm、1310n、1490nm、1550nm、1625nm. And works at a variety of modulation frequency (CW, 270HZ, 1KHZ, 2KHZ).
It is widely used in optical fiber communications, CATV, optical fiber sensing, optical information processing field. It is an important fiber optical testing instrument in research and engineering.
Features :
Good stability in output power
Large LCD display and backlight
Battery power display

Application:
1. Maintenance Telecom
2. Maintenance CATV
3. Test Lab of Fiber Optic
4. Optical fiber sensors

Specifications:
650 850 1300 1310 1490 1550 1625(1-4 wavelength)

FC(SC/ST can be optional)

≥ 3mw @ 650nm; ≥

-7dBm @ 850/1300nm

≥ -7/0dBm @

1310/1490/1550/1625nm

CW,2Hz@650nm;CW,270Hz,1KHz,2KHz@Others
Related products you may need